In today's post, I'm going to run through essential On Page SEO Tips you can use to optimise the On-page contents of your website so you can boost your rankings in Google local search results and attract more visitors to your website and business,
Google uses over 200 signals to decide how to rank websites in its search results. Some of these signals come directly from your website content. In the SEO industry, they are known as on-page signals because they are directly located on the content of your pages.
The good news is that they are easy to implement, and although you might not climb up to the number one spot on Google when you optimise them, it will help you on your journey there.
Let's start with the first tip…
1.Optimising Your URL
Optimising your URL or the address of your page to target a specific city where your local business is located.
Let's say you are a plumber and you want to rank for the keyword plumber Perth which is the main city of Western Australia. You should add the keyword plumberperth in your URL to help Google understand this page is about you a plumber in Perth.
But be careful not to be too spammy if your domain name already includes part of the keywords then there's no need to create a sub-page with the main keyword.
For example:
If your website is called bestplumbers.com.au. You can create additional pages that target the city you want to rank, for example.
bestplumbers.com.au/perth
bestplumbers.com.au/rockingham
bestplumbers.com.au/mandurah
and so on…
2.Optimising the Meta Title Of Your Page
For those of you who don't know the meta title of your page, it's the HTML code that shows the name of the page in your browser.
Here's an example of a meta title:
The meta title is relatively easy to update. here are some guides online that show you how to update meta title depending on your content management system (e.g. WordPress, Wix & Squarespace ) 
Here are some quick guides for some of the most popular CMS out there.
This is an important component of your On-Page SEO Tips for multiple reasons because:
Since it plays a small part in rankings
People are more likely to click on an appealing title than a bad one which will drive more traffic to your site
Here's a quick example of a good and bad meta title: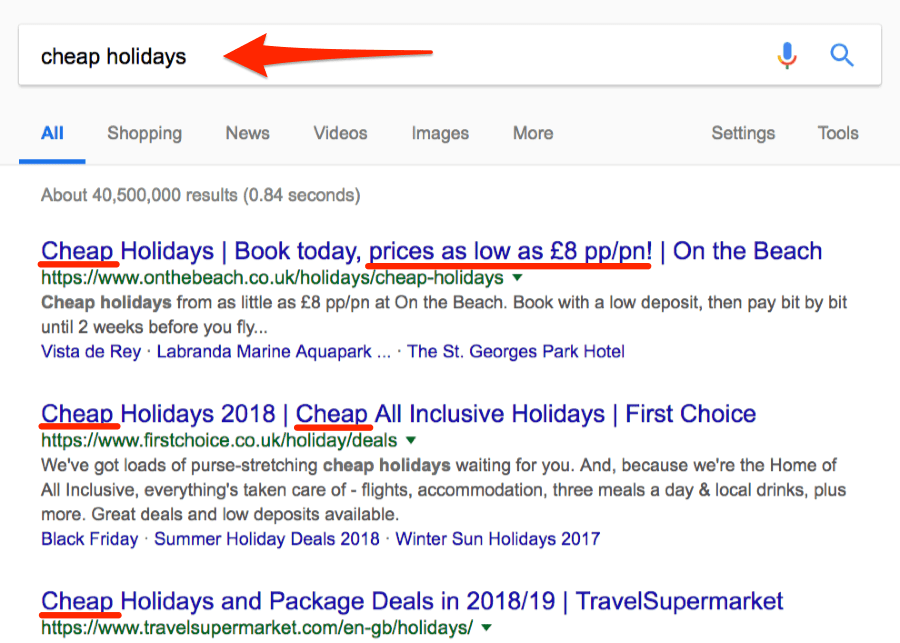 And here are some bad one's for you to avoid
Make sure you are adding your main keyword on the page title since it tells Google what the page is all about but make sure you don't spam it with different keywords. The point of a good page title is to entice searchers to click on your website.
The team at Moz created a detailed guide that explains best practices on creating a great Page Title or Meta Title.
3.Optimising Meta Descriptions Of Your Pages
Meta Description is the little snippet of words you see under the page title or headline on search engine results.
Like your page title, The meta description is also a piece of HTML code you can easily access from your content management system.
So why is meta description so important?
A meta description can influence the decision of the searcher as to whether they want to click through on your content from search results or not. The more descriptive, attractive and relevant the description, the more likely someone will click through.
Same as the page title, the point of a great meta description is to entice searchers to click on your page. A recent study shows that a page with a high CTR or click-through-rate has a direct correlation to the page's ranking.
The guys at Smarinsights created the detailed posts about the clickthrough rate of pages and their rankings.
Read the full article here
Here's a Meta description checklist that you need to keep in mind when creating a great meta description.
Keywords: do make sure your most important keywords for the webpage show up in the meta description. Often search engines will highlight in bold where it finds the searchers query in your snippet.
Write legible, readable copy: this is essential. Keyword stuffing your meta description is bad, and it doesn't help the searcher as they'll assume your result leads to a spammy website. Make sure your description reads like a typical, human-written sentence.
Treat the meta description as if it's an advert for your web-page: make it as compelling and as relevant as possible. The description MUST match the content on the page, but you should also make it as appealing as possible.
Length: a meta description should be no longer than 135 – 160 characters long (although Google has recently been testing longer snippets). Any longer and search engines will chop the end off, so make sure any important keywords are nearer the front.
Do not duplicate meta descriptions: As with title tags, the meta descriptions must be written differently for every page. Google may penalise you for mass duplicating your meta descriptions.
Consider using rich snippets: by using schema markup, you can add elements to the snippets to increase their appeal. For instance: star ratings, customer ratings, product information, calorie counts etc.
4.Optimise Your Images with Alt-Tags
Images optimizing images is often overlooked by businesses and is a missed opportunity to rank higher by giving further context to Google about the topic of a page. 
The good news is it's super simple to do. Let's say you run a cleaning business in Perth you would like to optimize this image. You can give your picture of file names such as Perth Cleaners.jpg and then add a relevant alt attribute.
If you don't know what an alt attribute is, it is the alternative text that is displayed on a page when the image cannot be rendered. You can easily add this on your CMS when you load a picture.
In this example, you could add Perth Cleaning Services at the [Business Name].
Here are some of the best practices of creating a proper Alt text for your images.
Describe the image and be specific. Use both the image's subject and context to guide you.
Keep your alt text fewer than 125 characters. Screen-reading tools typically stop reading alt text at this point, cutting off long-winded alt text at awkward moments when verbalizing this description for the visually impaired.
Don't start alt text with "picture of…" or "Image of…" Jump right into the image's description. Screen-reading tools (and Google, for that matter) will identify it as an image from the article's HTML source code.
Use your keywords, but sparingly. Only include your article's target keyword if it's easily included in your alt text. If not, consider semantic keywords, or just the most important terms within a longtail keyword. For example, if your article's head keyword is "how to generate leads," you might use "lead generation" in your alt text, since "how to" might be challenging to include in image alt text naturally.
Don't cram your keyword into every single image's alt text. If your blog post contains a series of body images, include your keyword in at least one of those images. Identify the image you think is most representative of your topic, and assign it your keyword. Stick to more aesthetic descriptions in the surrounding media.
5.Improve Your Internet Linking
We want to start by explaining what an internal link is. An internal link is a text link that points from page a to page b on your site.
Here's a quick example of Interlinking pages.
Internal links to your pages help with ranking pages higher in Google. But don't get overexcited and start adding tons of links across all your pages targeting the same terms hoping it will propel you to the number one position in Google.
Your links need to look natural, avoid creating multiple links on one page pointing to the same page using the same word. Also, make sure it is in context. The best way of doing this is to check for opportunities on your existing content.
Why is page interlinking so Important?
The guys at Moz couldn't have explained it better
"In the example above, Google's colourful spider has reached page "A" and sees internal links to pages "B" and "E." However relevant pages C and D might be to the site, the spider has no way to reach them—or even know they exist—because no direct, crawlable links point to those pages. As far as Google is concerned, these pages basically don't exist–great content, proper keyword targeting, and smart marketing won't make any difference at all if the spiders can't reach those pages in the first place.
The optimal structure for a website would look similar to a pyramid (where the big dot on the top is the homepage):"
Best practices for Internal Linking
Now that you understand the importance of internal linking let's take a look at some SEO best practices that will help you get the most out of your internal linking strategy. 
USE DESCRIPTIVE ANCHOR TEXT
First of all, it's essential to use descriptive keywords or phrases in the anchor text of your internal links.
Anchor text is the portion of the link that's visible to site visitors. In other words, it's the highlighted text that people click to visit other pages.
To give website visitors and search engines a clear idea of what to expect when they click the link, you need to use descriptive anchor text.
For example, if you are linking to a page located at, "http://www.example.com/pets/dogs.html," your anchor text could simply say "dogs." This lets people know what information they will find if they click the link.
CREATE A CRAWLABLE LINK STRUCTURE
Search engines need to have access to a crawlable link structure that allows search spiders to find and index all pages on a website easily.
If you want to see what your website's link structure looks like, you can use Open Site Explorer.
Many websites make the mistake of burying main link navigation so that search engines can't find it, and this can negatively impact their ability to get indexed by major search engines.
In other words, search engines need a way to reach pages on your website, and internal links make this possible. For example, a search spider may arrive page A and follow a link to page B. However, if pages A and B don't link to page C, search crawlers will have no way to reach and index that page.
Crawlable link structures allow link juice (ranking power) to flow through your entire website and makes it easier for search engines to discover and index new pages
USE FOLLOW LINKS
Both the meta robots tag and the robots.txt file allow website owners to restrict search spider access to website pages.
So if you want search engines to find pages on your website, you need to ensure that you use follow links that allow them to follow links to discover new pages.
Follow links are a great way to build an internal link structure for your content marketing strategy, and they allow link value to flow freely.
Create quality content
To have lots of internal links, you need to create a lot of inner pages.
Search engines need to see content on each page to index them, and both search engines and website visitors alike love quality content.
Creating content related to your business, products, and services is a great way to improve your rank in search engine results, and it allows you to add internal links to valuable pages on your website. This will help to drive traffic to your site and provide people with the information they need to take the next step with your company. 
LINK DEEP
Instead of linking to pages that are already included in your site's main navigation, we recommend looking for link opportunities deep within the structure of your website. Sometimes, pages can get buried in your site's architecture, so it's an important link to them from other top-level pages.
Rather than always linking to your home or contact pages, include links to other internal pages in order to boost the overall SEO value of your website. This will ensure that both search engines and website visitors can find pages on your website and quickly digest the content.
USE NATURAL LINKS
Make sure internal links are natural for readers. When readers see informative links that match the context of the content, they will be more likely to click the link and explore other content on your website.
Including links in your website copy is like saying "Hey! This is important. Stop what you're reading and click the link!"
So you need to make sure that you link to relevant pages that provide value to readers and relate to the topic of the page that they're currently visiting.
After all, if someone is reading about SEO Guides for 2020, it probably wouldn't make sense to direct them to a page about dog grooming tips.
When you include natural links to other pages on your website, visitors will become more involved in your website and will most likely spend a more extended amount of time on your site.
USE A REASONABLE NUMBER OF LINKS
It's also crucial that you keep the number of internal links on your website reasonable.
But what is a reasonable number of links?
Google engineer Matt Cutts said, "It seemed about right to recommend about 100 links or so," and "in some cases, it might make sense to have more than a hundred."
This includes all the links on a page— header, footer, navbars, and ads.
It's also important to remember that search engines will only crawl around 150 links on each page before they stop spidering pages linked from the original page. Though this number is somewhat flexible, and high authority pages may have 200-250 links followed, it's generally wise to limit the number of links on a page to 150, or they may not all be crawled by search spiders.
In addition, links toward the top of pages carry more SEO value, so you should always place the most important links near the top of your website pages.
When it comes to linking in the actual copy of your pages, there's no magic number. However, it's essential to consider your users and add links that are actually helpful for them. Instead of littering your pages with irrelevant links, add internal links to pages that contain related content that will provide visitors with valuable information.
Conclusion:
On-page SEO Tips is about more than shoehorning a few keywords into meta tags.
It's about fulfilling search intent and giving searchers what they want. That's the most important step. If you don't pull that off, no amount of "optimization" will help you rank.
We hope you found this post valuable and if you are looking for a Perth SEO make sure you contact one of our marketing experts for a free strategy call to discuss your business goals.
You can also read our detailed guide on how to buy SEO for your business to help you understand what to look for when starting an SEO campaign.