A lot of people think SEO is a black art. Google, the internet's dominant search engine, is highly secretive about how its search engine works, and even if SEOs knew exactly how Google's algorithm worked, it's not like they could make it do what they want. But while SEOs don't have all the answers, they can do some things to improve their websites' rankings. One of the easiest and most effective things any site can do is make sure it's well-linked internally.
In this post, We will discuss the benefits of Internal linking and how it can help you improve your search ranking and make it easier for Google spiders to crawl your website.
What is Internal Link
A website has all the possible information about the company, people and products, and services. It has multiple pages like a homepage, service page, and product pages. An internal link takes the visitor to another page on the website. The internal links are critical to keeping the visitor long enough to ensure that required information is conveyed. These are used for navigational links and SEO purposes.
The search engines use the relevant links to rank the website based on their authoritative power to attract visitors. Any website with more link authority appears more trustworthy to Google's algorithm. Search engines like Google and all the visitors need some directions to navigate the website. They use an internal link structure to find the required content easily.
Internal Link vs. External Link
Internal links direct the visitors to a page within the website- that is, a link from one page to another within the domain.
External links, on the other hand, direct the visitors away from the website. These types of links are called outbound links. The outgoing links may take the customers to an entirely new website or an affiliate site. The external links that brought them to your website will be called the inbound links for your domain to separate from the other external links that you have added to your website.
We can say that the menu bar on the homepage contains all the internal links to different pages. We can summarize that the external links direct to a separate domain while Internal links direct visitors to pages and content within the website.
Why Is It Essential For SEO?
Internal linking is something that is often overlooked by those who are just starting on SEO. Internal linking is the process of linking pages and posts on your site together, to ensure that search engines have access to as much of your content as possible. By internal linking, you can connect all of your content to help bring search engines to pages that might otherwise not have received much search engine traffic.
Internal Links can help increase your page authority & relevance.
Internal links are a great way to increase your page authority, as they increase the link count of the pages that they link to. But what is page authority, and why should you care about it? Simply put, it's a representation of how relevant and authoritative a page is, derived from the links pointing to it within the same site. The more links a page has, the more authority it holds, which means more weight in the search engine rankings.
Similar to how external backlinks work, the more links the page receives the more "link juice" it receives.
You can use the following tools to check how many inbound links a page is receiving:
Internal Linking can improve user experience.
A great internal linking structure has many SEO benefits, but the same thing can be said about user experience. Users love a website that is easy to navigate. They will enjoy using your website because it is simple to navigate and easy to read. When a website has clean and simple navigation, the user is more likely to stay longer.
The number of times a user has to click is directly proportional to the bounce rate. This is why it is important to have fewer clicks and more internal links on your main service pages.
Internal Links can help Google bots to crawl your website faster.
Search engines can now crawl and index your website faster and more efficiently, thanks to internal linking. If you think about it, it makes sense. After all, if you make it easier for Google bots to find the content on your site, they're going to be able to do so more quickly and efficiently. It's a win-win situation all around.
Internal Link Best Practices
Do I need to say anything? Internal linking is the lifeblood of effective SEO campaign and needs to be done correctly. Here are my favourite practices for internal linking:
Improve your website structure using internal links
A good website structure is the foundation of every SEO strategy. It's important to have a website architecture that is optimized for the search engines, and also for the users. Internal linking is one of the most powerful techniques you can use. Internal linking helps users navigate your website and increase the relevance of your content on search engines. One of the most important things that search engines want to see on your website is a prominent link to your main page.
As a general rule of thumb, all your website pages shouldn't be more than three clicks from the homepage.
Our favourite tool to check site structure and click depth is Screaming Frog. Here's how to do it:
Download the free version of Screaming Frog
Once Screaming frog is installed, enter your website URL and let the tool crawl your website
Click the site structure tab.
This should give you how your website is structured and the crawl depth of all the pages.
If you found any pages that are 4 pages and above add some internal links to those pages to move them closer to the homepage.
Check all service/sales pages are linked internally.
If you're trying to drive traffic to your site, it's important to make sure all your pages are linked together in a way that makes your site easy to navigate.
A good way to visualize your internal linking is using a map of your site or a site tree. Any page that doesn't link to any other page on your site is known as an orphan page. Orphan pages are bad for SEO because they can decrease the time it takes for a visitor to find content on your site, potentially resulting in a higher bounce rate, which can negatively affect your rankings.
The awesome guys at screaming frog created an awesome guide on finding orphan pages using one of our favourite tools.
You can read the guide here.
Check for any 404 pages.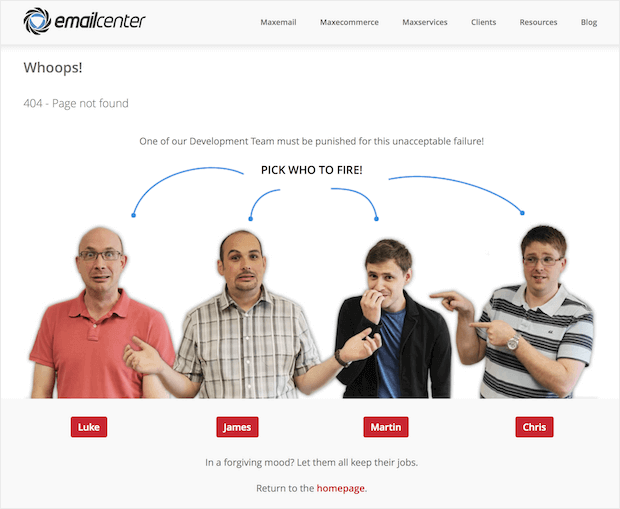 It's important to check for 404 pages or broken links on your website. When someone lands on a 404 page, they often leave the site as quickly as they arrived. If the page is not properly linked to the rest of your content, it could be a missed opportunity to keep your visitor engaged and expand your site's reach. If you have never checked for 404 pages in your site, now is the time to do so.
Good news is, finding 404 pages is an easy fix. Here's how to do it:
Fire up your screaming frog then enter your URL. We will use our own website for this example.
Once the crawl is complete, click the response codes tab.
Then click the Filter dropdown and select Client Error (4xx)
Click the client error (4xx)
Alternatively, You can also go to the overview section on the right side and scroll to the Response codes section.
Use your target keyword as anchor text.
The most simple way of doing this is by using the keyword as anchor text for internal linking. Internal linking is considered as one of the best practices for optimizing your content for the search engines. Doing this will help you with ranking your target keyword in the organic search results and help your users comprehend your topic.
Using your target keyword as anchor text for internal linking is one of the easiest and most beneficial internal linking best practices.
For example, you sell peanut butter, and you created an article about "Best Low Fat Peanut Butter For 2021."
Within the article, you can create an internal link with the anchor text "Best Peanut Butter" to your sales page or peanut butter product page.
Open internal links in a new tab
Opening the external links in new tabs allows users to scan the page once, click on all the relevant links and start consuming and sifting information. The user doesn't have to keep going back to the source page to continue scanning for more links to click. There's less interruption in their flow.
When users do want to go back to the source page, it's easy to do because the tab will stay open until the user manually closes it. The user doesn't have to click the back button multiple times and wait for the source page to reload. They can easily get to it just by clicking the tab.
Final Thoughts
Internal link building is essential for the success of any website these days. Now you know their importance for SEO and the strategies that can improve your website's ranking. This needs a user-focused approach. The links should provide value and required information as soon as possible to lead them towards conversion. Any user clicks a link only when the context interests him. This will also help him stay longer on the website, and that is what would lead to conversion.
When the internal link is relevant to search engines and the visitors, you will invite them to visit the website pages with more information. Internal links help the users and you, making it succeed.