These days, it may not be enough to have a dental clinic and wait for patients to spread the word about your practice. Fortunately, dental marketing is possible through the Internet.
Dentists may not advertise through billboards or on television, but they may hire a web design company to design their website and make it accessible. The tools for Dentist marketing are increasing in number and effectiveness. Many dentists may benefit from the power of the web to inform patients and help businesses grow.
Let's ask ourselves this question; Imagine you are a patient who just moved to a new area and needs to find a dentist,
How would you begin your search?
Would you ask a friend or a family member or turn to the Yellow Pages?
The answers are simple; nowadays, when patients are looking for a dental care provider, Google search is the first place they turn. Furthermore, Google Maps results provide a rich experience to browse lots of practices at once, making it easy to compare professions, browse photos and ultimately make a booking or visit a practice website for more information.
With Google My Business, you can advertise your dental office on the world's largest online search platform. As a dental practice, you must be sure the information patients see about your practice is relevant and attractive.
Luckily, there's a way to improve what patients see about you on your Google My Business profile. This article is an easy way to build your exposure, expand your virtual reach, and bring more local clients through your doors.
Let's take a quick guide on how your dental clinics can optimize Google My Business to see the results you deserve. Let's go!
What is Google My Business (GMB)?
Google My Business or GMB is an online business profile, searchable by Google, just like another website.
When you set up your GMB the right way, you will appear in relevant search results, including Google Maps. Rather than taking visitors to your full website, this profile offers a short extract of your practice, covering high-level details including:
Your contact info
Your operation hours
Visitors' reviews and feedback
Images
Important links
A well-optimized Google My Business listing boosts your dentist office's local SEO and helps you get more leads. Your GMB is vital to your local dental SEO, and laying claim to your listing is the first step in optimizing it.
Once visitors review your information, you are one step closer to encouraging them to click on your website and learn more about your practice. Google data shows that 60% of people who research a company on the Internet will contact the company. After all, you can't complete what you haven't claimed, right? Demanding your GMB item is easy and free.
Why You Need GMB as a Dentists
Why do you need to create a Google My Business profile? The answer is simply "local search." research shows that people surf the Internet to find what meets their needs instead of choosing a dentist based on word-of-mouth recommendations. When visitors search the Internet, they prioritize the following metrics:
Online ranking
Geographic proximity
Online reviews
Local searches are linked to Google Places and Google Maps; this means that the more attractive your online profile is, the more excellent opportunity you will have to ascent the search engine ranks and appear near the top. Your profile is the first step toward enticing the attention and eye of your local target audience.
When your company info is easier to find online, you will reap the rewards by gaining increased exposure and visibility.
Claiming Your Google My Business Profile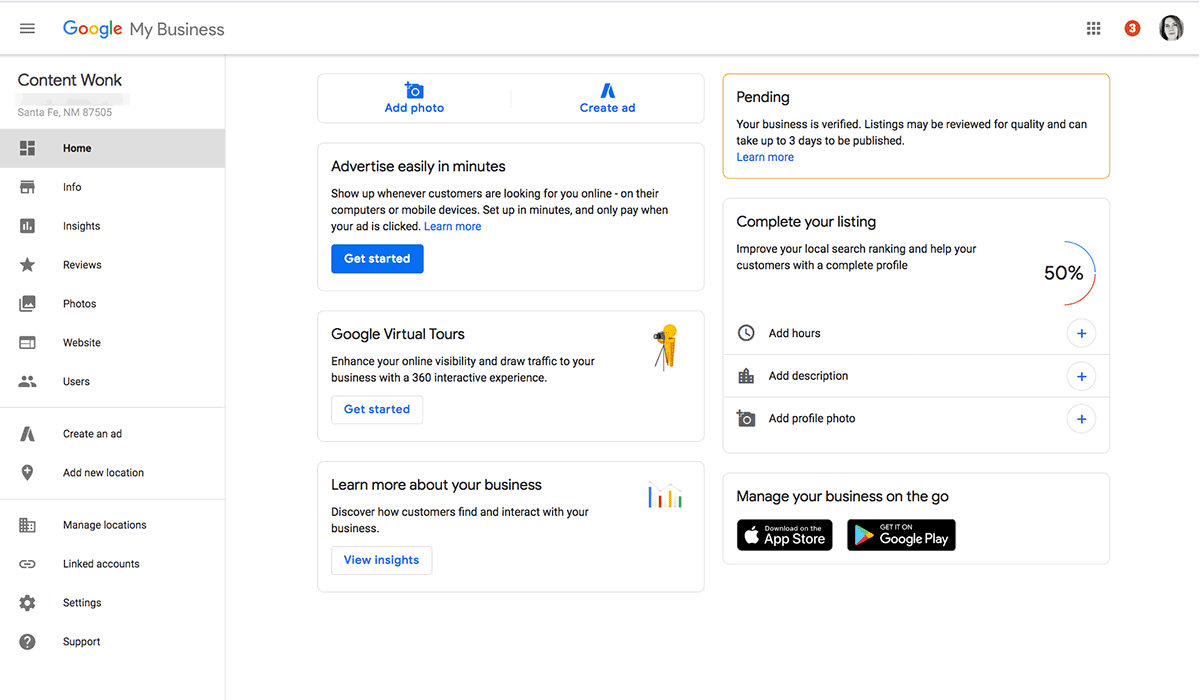 Your Google My Business profile is vital to any business's local SEO tactic. This profile displays everything a potential patient might want to know before they contact your office.
Requesting and setting up your Google My Business profile is simple and straightforward as possible. Click "Manage Now" on Google My Business homepage; this will trigger a sequence of prompts, which will walk you over the process of completing and claiming your profile. You will be prompt to enter the following basic info about your dental practice:
Your business name
Your location (address)
Your niche category (family dentist, orthodontist, oral surgeon, etc.)
Your website link
Phone number
Reviews
After you supply the necessary information, Google will send you a message that includes all of your profile facts. Inside it, you will find an authorization code that you will need to insert to complete the setup.
Optimizing your Dentist Google My Business Listing
Having an optimized item also increases your chances of showing up in the Google top three businesses listed with the local search results chart.
Business Info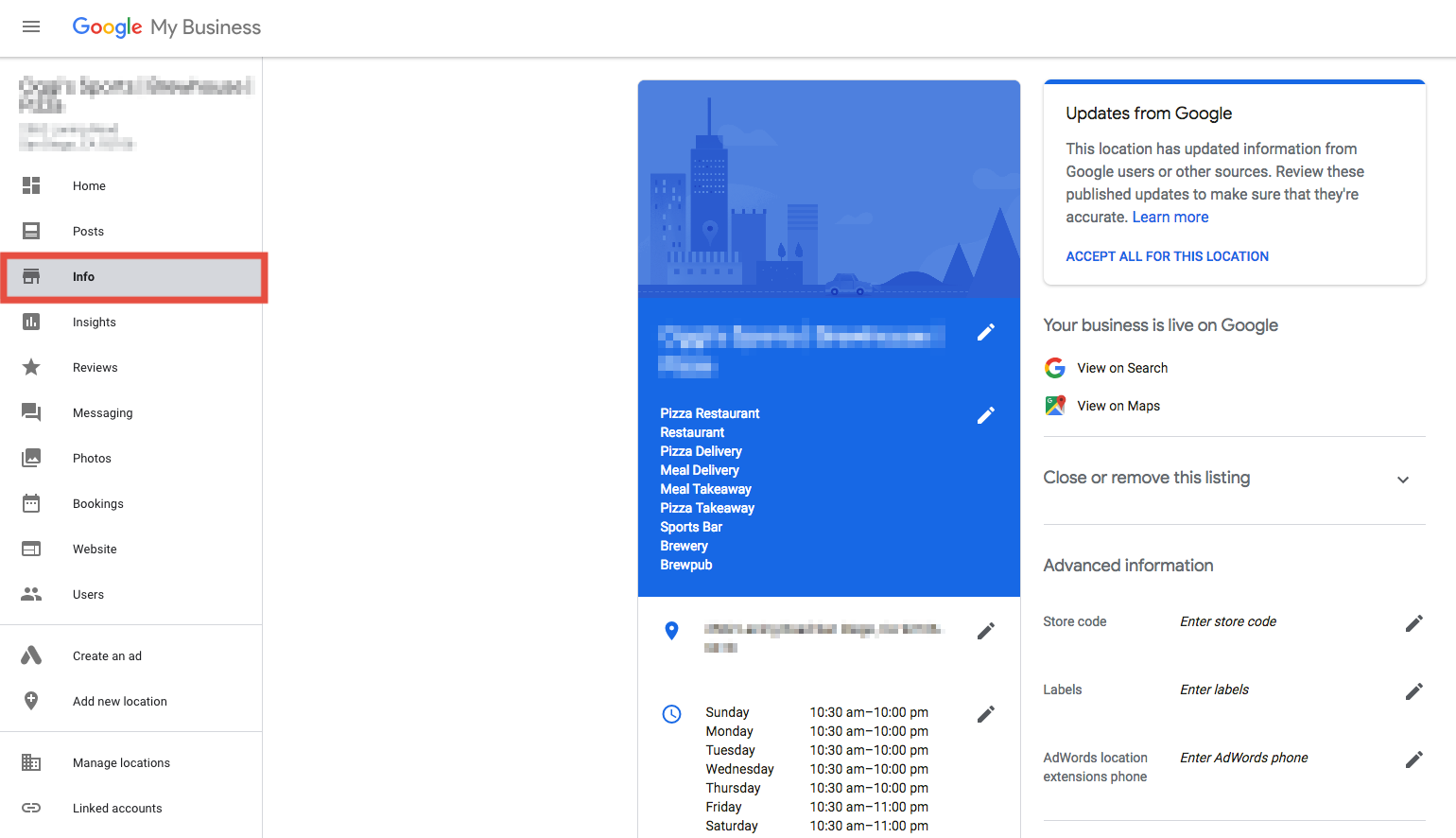 Your NAP (known as a name, address, and phone number) are the most critical pieces of information on your profile, as they display business information around the Internet to other websites. Consistency business info is vital to get prospective patients' attention to your practice. Unreliable NAP info might result in your practice appearing less often in searches.
Fill Out All Your Item Perfectly.
Always add as many facts as you can to your listing. In addition to necessary information like your address, website, phone number, and hours take the time to add services and qualities that will give prospective patients more information about your practice.
List Accurate Information about your practice.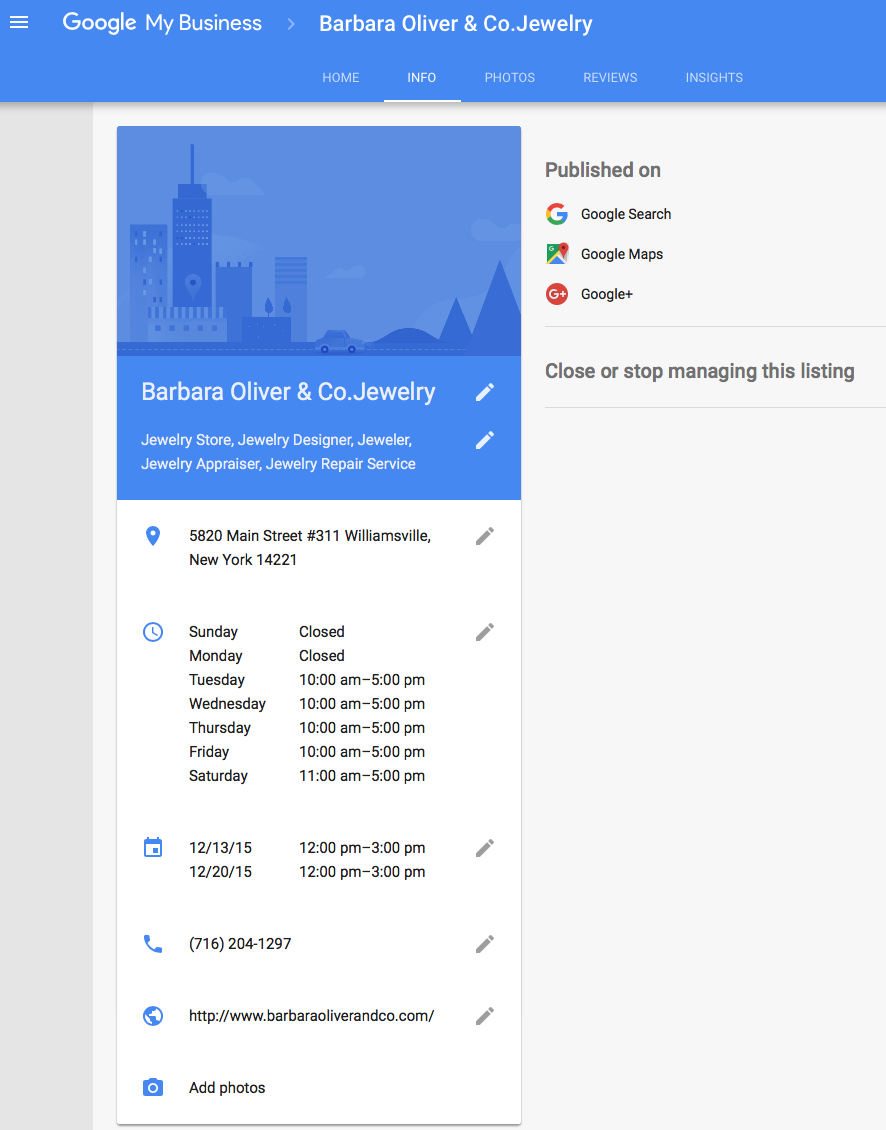 Inaccurate business facts can be more than just unprofessional. It can confuse search engines (like Google) and potentially disrupt their ability to list your dentist's office accurately. Ensure that the address, phone number, and all information displayed on your Google My Business item is up-to-date and matches what's on your website. If your practice moves locations or your phone number changes, update your list immediately.
Use the Right Keywords.
Keep a list of your business's keywords nearby and use them through your listing. Keywords are crucial for SEO as, without them, Google has a hard time understanding what your business is about when you use the wrong keyword.
Pick the Right Category for Your Dental Practice
It is essential to state the kind of dental services your practice provides. It makes sense to add a Dentist as your primary business category, then add one to three relevant additional categories. For illustration, you might provide cosmetic dentistry, teeth whitening, and pediatric dentistry, all at the same location.
To add the right groups to your Google My Business Listing:
On your dashboard, click the "Info" tab in the menu.
Under your business name, click the pencil icon.
A small window popped-up, there you can add categories.
Some of the classes you can select from include:
Dentist
Pediatric Dentist
Emergency Dental Service
Dental Laboratory
Dental Radiology
Dental Clinic
Dental Implants Periodontist
Oral Surgeon
Teeth Whitening Service
Dental Insurance Agency
Dental School
Service Location
If your practice frequently sees patients from outside the city listed in your address, it is logical to add them as service areas. Add a few of your patients' locations to your service areas in your profile.
Hours of Operation
Add your regular, correct hours of operation to your profile here.
Special Hours
Add holidays or off day's hours that you might be unavailable. You can add early closed hours for things like team training, seminar, etc.
Website
The website is where you add your practice's website address. A globe symbol marks it.
Appointment Link
If you happen to have an appointment booking or request page that patients can use on your website or a third-party service, you can add the link here. To add an appointment link to your profile:
Click "Info" on the left-hand menu of your dashboard.
Scroll down to the "Website" section and click on the pencil icon.
A small window open where you can add "Appointment URL" as well as a website URL.
Click "apply" to activate. You can add a link to the contact us page if you don't have a unique booking page.
Description
You can write a description of your dental clinic that appears on your My Business profile. Adding natural keywords in this space can affect the search ranking, so adding a robust, complete, and accurate description is essential. To add or edit your description:
Click "Info." on your dashboard,
Click the pencil icon under the "Accessibility."
Write or copy & paste your business summary in a small popped up window.
Ratings & Reviews
92% of people aged 17-35 online trust reviews almost as much as a review from someone they know, making online reviews essential for helping intended patients make decisions. But you might be astonished to learn that online reviews can also boost your site's search engine rankings. Google includes reviews in its algorithm, ranking websites with more quality reviews than those with fewer quality studies.
Cheer patients to leave reviews and explain the power that it can have on your dental clinic. Something as simple as "give us a 5-star review on Google, as your review will help our dental clinic get more patients, and improve on our services."
Responding to Reviews
Why do you need to respond to reviews? Any time you engage with your visitors on your profile helps boost your ranking, both good and bad. Also, Users find it pleasing to know that your dental clinic is active in the online space, plus patients love to know that the dental clinic they reviewed, reads their comments and takes them to heart. It takes seconds to say "thank you" for a radiant review. Give a respectful response to negative reviews, and then work offline to come to a settlement dispute.
Questions & Answers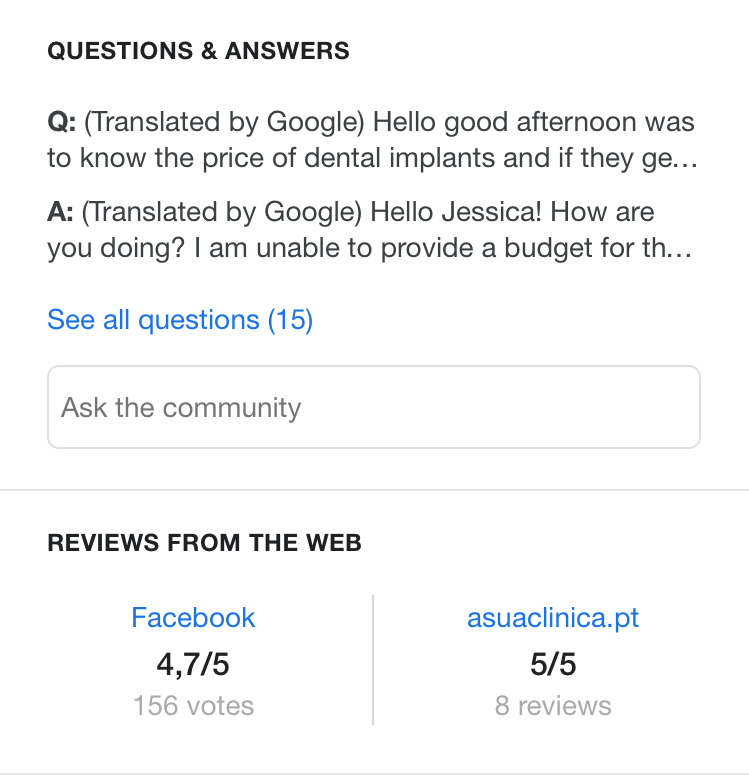 Google has a Questions and Answers feature in its profile listings. It might be tempting to overlook this section of your Google My Business listing, but please don't!
You can use this tool as proactively or passively as you wish. You can allow visitors themselves to post and answer questions about your dental clinic, but their answers are often incorrect or obstructive, which reflects severely on your practice.
If you use this feature, Google enables you to receive push notices, so you know when someone has asked a question on your GMB profile. If you can give a quick answer, you will boost your commitment rate and strengthen your dental clinic.
Alternatively, if you want to fully control your profile, go ahead and generate your questions and then provide answers to each of them; this is a perfect way to address everyday worries and respond to FAQs without giving room to irrelevant issues.
Image Quality & Videos
High-quality photos and videos are an essential part of your Google My Business listing because they help prospective patients know what to expect when they visit your dental practice.
Add images of your dental clinic, both exterior and interior, including your reception area, modern equipment, products, smiling patients and glossy, and anything else that would give patients an impression of the feel of your practice. Make sure you upload new photos regularly to convert prospective patients.
Give your photos and videos keyword and friendly file names. Instead of the name given to it by your camera or phone, this allows Google to understand your listing and helps improve your ranking. To upload photos and videos to your Google My Business listing:
On your dashboard, click "Photos" in the menu on the left.
Click the category your photo on the photos tab.
Clicking the plus (+) sign and upload your photos.
Select your photos in a small popped up window.
Now, you can upload your images and videos.
Services Listing
Google allows you to add your services to your listing; this is favourable because it lets viewers know what you offer even before visiting your website. As a new feature, many dentists forget this part when setting up their profile; this implies that you are one step ahead of other dental competitors if you complete your Services List.
Classify your services to make them stress-free to search in your Google My Business listing. For example, you might group some into cosmetic care or Restorative Dentistry and others into preventative care.
Use relevant keywords together with service titles and descriptions to aid Google better comprehend your practice and what you give. To add services to your listing:
On your dashboard, click "info."
Scroll down to the "Services" section below the URL section.
Open this section, click this "Services" (there is no pencil icon).
Posts
In addition to your necessary information, creating posts on Google aids, you stand out and allows you to broadcast your knowledge with people before they even visit your website. You can post on the following categories:
What's New (blog posts)
Offers (special discounts)
Events
Welcome Offers
Products
Checkup reminders
Use the correct keywords in your posts and use the call to action button to make it fresh for patients to take the next step.
Let's look at some of the best types of posts and how to optimize them.
What's new, you can use this space to share news and time-sensitive information about your practice. For instance, unveil your latest equipment and talk about some of the new treatments you provide, you can introduce new staff members.
Offers
Suppose your location permits you to advertise special promotions or discounts on your dental treatments or services, benefit from this feature!. In that case, this is a fast and straightforward way to promote your offers free of charge in your Google My Business. This free advert, visibility, and exposure is a different opportunity and a brilliant way to get as many patient eyes on your offer as possible.
Informative Posts
You can use the posts feature to grow your stance as a dental expert. For illustration, you can provide relevant treatment information, discuss trending research in your niche, or share helpful dental care tips.
This info post is your space to start thought leadership and discuss topics that concern your active and prospective patients. As you do this, keep your Search Engine Optimization (SEO) plan in mind. By incorporating essential keywords that your audience is already searching for, you can help move your profile up the Google rankings, finally earning your rightful place in the Top three dental clinics. To add a fresh post to your listing:
Click on "Posts" in the left-hand menu.
At the upper of the screen, click the "Write Your Post" box.
A small window open for you to create your post.
Choose the category of posts and follow the command to create it.
To see how it will appear to a visitor, Click "Preview."
If you are okay with your post, click "Publish."
Insights
There is valuable information about how your listing performs in the "Insights" tab; this includes which keywords attract people to your listing, most viewed images, visits your listing gets, the number of clicks, and map requests. Insights give you information that helps you make changes and bring up-to-date your profile and your posts to better your patients.
Boosting Your Local Dental SEO with Google My Business
Optimizing your GMB listing should be the basis of your dental SEO approach. It helps patients and prospects study more about your practice and also helps Google understand your dental clinic. It also allows them to display your listing to the exact people, leading to more website visits, appointments booked, and phone calls.
.